Who We Are
Founded in January 2010, Ride Civilian is a specialized manufacturer of bikes that has been introduced to offer a revolutionary biking experience. We specialize in producing various bikes and bicycle accessories.
We are here to encourage and support a healthy and active lifestyle through our specialized products and offerings, uplift the importance of healthy biking as well. At Ride Civilian, our primary purpose is to help you unleash your full potential and help individuals' access high-quality bicycles.
Ride Civilian has long been one of the primary catalysts for change. Through years of experience and expertise, we have aimed at redefining the look and feel of bikes. Our collection of bikes and accessories have been developed and tested by the leading teams and professional racing athletes.
We intend to uphold a robust ecosystem of gears, bikes, and cycling to help individuals' access world-class cycling products and services seamlessly. With a large team of 1500+ staff based in the USA, UK, Germany, Australia, and China, we support a global service.
Our Products & Services
We offer a large variety of bikes and accessories such as mountain bikes, road bikes, city bikes, kid's bikes, hybrid bikes & much more. We also offer biking accessories such as bicycle baskets, sports towels and bottle holder.
We offer a seamless and hassle-free return and refund service, with 14 days return & refund for new and undamaged products. We also ensure to offer a lifetime warranty of most accessories, which enables customers to reach out to us anytime. Please consult our customer service team to know the detailed rules and regulations.
As we work closely with the manufacturers, hence we can assure you a faster support warranty. We assure clients of trusted round-the-clock assistance through our free consulting & a dedicated hub of customer support. This offers the flexibility for clients to reach out to us at any point of the day to get the queries resolved.
Our commitment does not end there; in fact, we follow a 5-7 days fast shipping method. Through this, we ensure to get our products delivered to the doorstep within a time period of 5-7 business days. We also support pre-order for products out of inventory.
Why Choose Us
Choosing us over others has got you some great benefits such as:
Unbiased customer reviews
Detailed specifications of products
The BEST market price in the industry
A large array of products under one roof
Transparent shopping policy
Dedicated customer support available 24*7 via email, phone, or live chat
Easy 14 days return and refund policy
Popular DTC business model
DTC Business Model
A direct-to-consumer (DTC) business model is known for supplying the products directly to the consumer. Instead of adhering to traditional retail stores, distributors, and other intermediary channels, the companies pitch the products directly to the consumers and at a much lower price.
This offers the businesses direct control over the entire process, from creation/manufacturing to marketing and lastly to the distribution of the products. With this comes the flexibility that the business model is exposed to. It helps brands to directly stay in touch with the end customers and know them better. By testing the large variety of distribution models, they can be flexible in choosing their kind.
It eliminates the need for them to bank upon any traditional retailers to get connected with the buyers. Due to its convenience and added advantage, it is slowly growing in popularity today than ever before. A large number of manufacturers are inclined upon the model to manifest a greater business. Ride Civilian incorporates this business model to offer its customers a pool of benefits at their fingertips.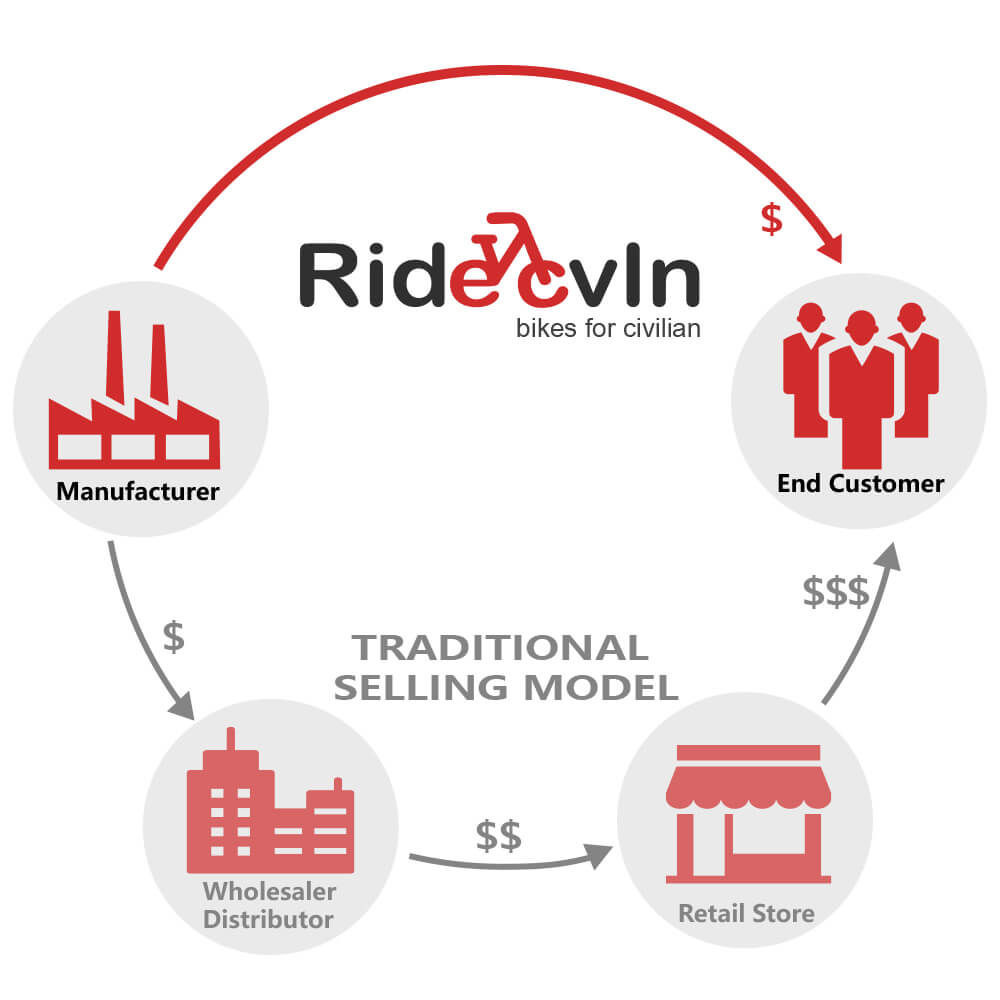 How does our model benefit you?
We do not have any middleman involved, and thus no intermediary channel to manage the business.
Complete authority of end-to-end process
The absence of middlemen gives us the flexibility to foresee a complete authority on the process and impose direct control on every significant step, from manufacturing to delivery.
We make use of platforms such as Facebook, Instagram, Amazon, and the like to make our products reach out to the target audience.
Reasons why we chose the DTC model:
It gives us larger control over the customer experience
It helps us gain improved control over the data of the customers
Hence, with such varying benefits and features, at Ride Civilian, we provide you more than one reason to trust us. Start planning your purchase by exploring the vast range of products and accessories online.
Sign up today to avail exciting deals and discounts. Feel free to get in touch with us by sending us an email: support@ridcvln.com or giving us a call to get your queries resolved. We will be more than happy to help you!